Lu Skywalker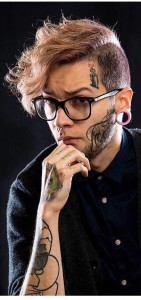 BOLD, BRIGHT, REALISM TATTOOING.
Lu Skywalker of 26 years of age started his career tattooing in Chicago,IL he moved to Pittsburgh in 2014. He is licensed by Lucasfilm and Marvel comics. Lu loves to do photo realism work of comic and cartoon style.
Book This Artist
If you are interested in working with me please send an email to luskywalker908@gmail.com with the following info:
approximate size in inches
placement on the body
photos of preexisting tattoos in the near vicinity
schedule/timeline for consultation and tattoo
reference photos of what you would like to get (what you like and don't like about the reference)
single session tattoos are priced by the piece, larger/multi-session tattoos are priced per hour. Lu_Skywalker charges $150 an hour. A deposit of a $100 dollars will be needed in order to make an appointment.
Designs are presented to day of the appointment and not prior to the appointment date. Clients will have extra time scheduled with their appointments to account for any minor adjustments made to the tattoo design discussed at the consultation. If major adjustments are needed, the deposit will be transferred to another day to give more time for drawing. If subject matter changes completely, a new deposit will be required for the new tattoo idea.