Shervin Iranshahr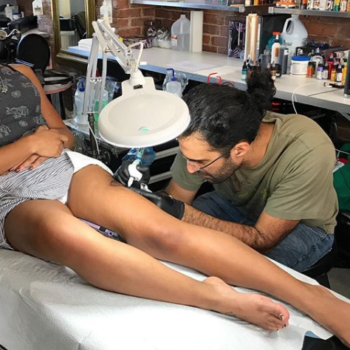 I consider myself a Symbolist and Surrealist tasked to create narrative visual experiences. I feel that the artist's explanation of their own message robs the viewers experience of deciphering the story for themselves.
As an art lover and fiend I've tried to experience all mediums at least once. Oil painting has been my preferred medium for 15 years, but my recent studies have produced a new close contender. I am currently tattooing under the wise and watchful eyes of my mentor Jason Angst. This priceless opportunity has influenced my artistic universe across all mediums and is starting a merger of my visual tone. I tattoo full-color realism, black & grey, and draw or paint all of my own reference designs. My passion is to make my fine art paintings come to life on a human canvas.
Book This Artist
Shervin is a fine artist current doing his tattoo apprenticeship under our own Jason Angst.
Shervin is currently accepting clients for flash pieces, walk -ins and custom pieces. Shervins walk-in days and hours are Tuesday 12PM – 7PM – Saturday 12PM – 7 PM.
Please give us a call at 412-661-0503 Monday – Saturday 12PM – 7PM to check for open time for walk-ins. If you would like to schedule a custom piece, please email us at artisantattoogallery@gmail.com with any reference images and concepts you may have.
Shervin also does commission work as well as instruction. For more information please visit his personal website, ArtFiend.net