Utterances new works by
April 7, 2017 @ 19:00

-

22:00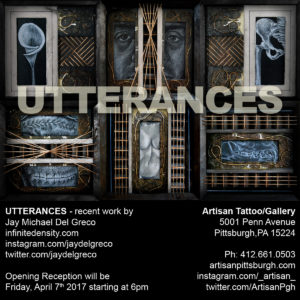 Artist Statement
My new series is called Utterances, because I wanted to produce a series of small, tight pieces that each succinctly evoke a unique thought or emotional state. They are all uniform 1 foot squares with strong iconic compositions.
In a broader context my work's purpose is always to give shape to shapeless things; namely time, weight, heat, and distress. To that end, I draw inspiration from my own life, obfuscating away mundane details that would make the work too specifically about me and my frame of reference. It's important to me that my work is accessible and able to mean whatever a viewer needs it to mean to them. With each new piece I aim to create the most beautiful thing that I can, and express myself entirely with it.
From a technical standpoint, I work with a very broad vocabulary of materials. Each piece is very sculptural mixed media, generally on wood, involving any combination found animal parts, house paint, spray paint, polyurethane, epoxy resin, burnt wood, various found rusted metal objects, twine, string, wire, cloth, vinyl, permanent marker, and charcoal illustration.