Matt McKelvey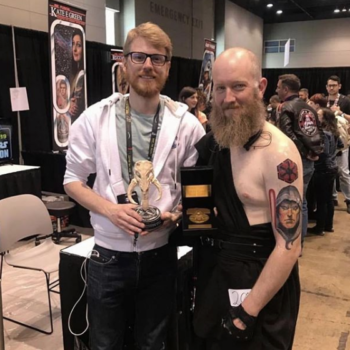 Matt McKelvey has been focused on the arts his entire life and has committed the past 4 years to developing his skill as a tattoo artist .  He first became fascinated with the art of tattooing after seeing photographs of Japanese body suits at a young age.  As an artist, Matt's tattoo style is very eclectic and he welcomes projects in a wide rang of styles including: Color or black and gray realism, Japanese, illustrative, new school, neo traditional and water color. Also, Matt is talented in black work including: Geometry design, stippling & etching. Types of projects Matt is wanting to work on include; modern and classic film, pop culture references, animation and Japanese imagery. Matt is open to working with you one on one to create a wonderful, custom piece of artwork.
Awarded Best Large Color 2017 Bleed Black and Gold
Book This Artist
Matt is currently booking a couple months in advance, so if you are looking to receive a tattoo from him you can submit your idea to his email mckelveyappt@gmail.com 
approximate size in inches
placement on the body
photos of preexisting tattoos in the near vicinity
schedule/timeline for consultation and tattoo
reference photos of what you would like to get (what you like and don't like about the reference)
single session tattoos are priced by the piece, larger/multi-session tattoos are priced per hour. Matt charges $125 an hour. A deposit of a $100 dollars will be needed in order to make an appointment.
Designs are presented to day of the appointment and not prior to the appointment date. Clients will have extra time scheduled with their appointments to account for any minor adjustments made to the tattoo design discussed at the consultation. If major adjustments are needed, the deposit will be transferred to another day to give more time for drawing. If subject matter changes completely, a new deposit will be required for the new tattoo idea.