A Call To Arms: Swords and Sorcerous Jewelry
At Artisan, we take pride in showcasing the work of Pittsburgh artists and craftspeople. This blog post we feature a limited edition collection by two of our favorite designers.
Poison Apple Printshop is a one-woman operation fueled by artist and printmaker Adrienne Rozzi. At the core of her artwork lies hand drawn original illustrations informed by witchcraft, magick, and the occult.
Mod Evil design balances sharp lines, a reserved color palate, and a dark aesthetic with rich tones to create versatile modern jewelry with a gothic edge. Mod Evil jewelry is designed and hand fabricated in Pittsburgh by Anya Weitzman.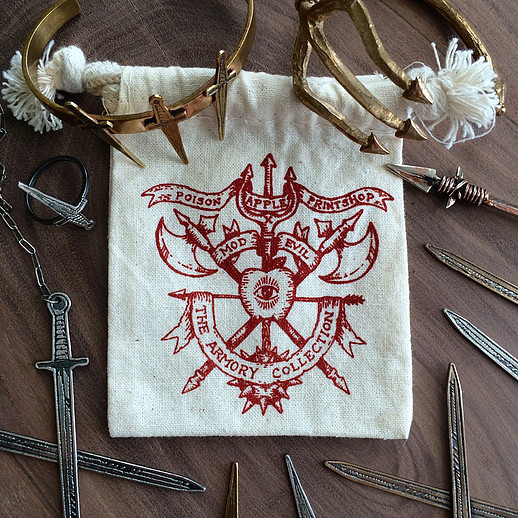 A favorite weapon of assassins, The Dagger is a double-edged blade with a sharp point designed for stabbing.It is used in witchcraft as a magical instrument of invocation and the focusing of will, as well as for the cutting of ties and the piercing of enemies at a distance.
The design for this piece comes from "The Seer's Amulets" series of drawings by Poison Apple Printshop. This dagger was hand forged out of sterling silver, etched on both sides, and hand finished with an antiquing patina.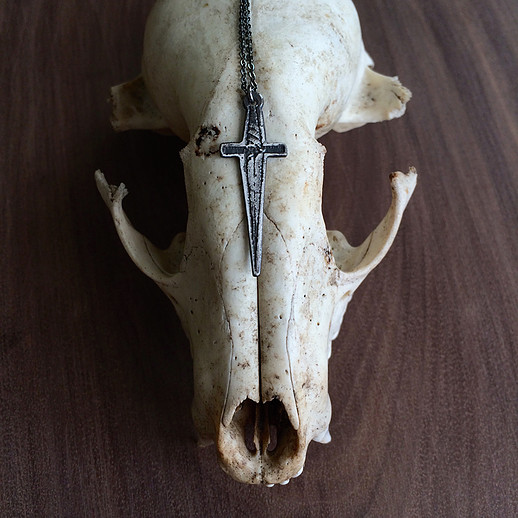 The sorcerous trident is a mythical tool of the rulers of the seas. Used by King Neptune to direct the elemental forces of water, the trident is also wielded by the hindu god Shiva, lord of witches, yogis and goblins. Interestingly, we sometimes find infernal spirits depicted carrying the triple-pronged pitchfork as well. The Mariana Cuff can be used to harness powerful emotions, thoughts, and desires, channeling them toward the target of your choice. It confers to its bearer the steadfast strength of water, bringing balance and harmony to your life.
Hand fabricated in solid gold-tone bronze, this adjustable brass cuff was finished with an antiquing patina and polished to shine.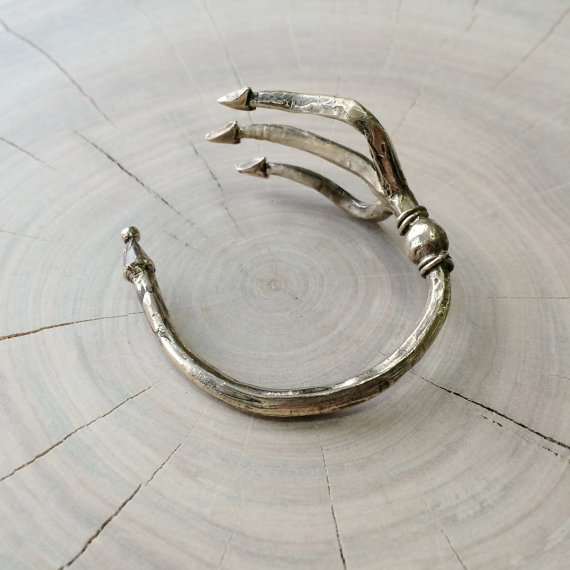 The Siege Pendant amplifies your own defenses with two intersecting longswords. In the Tarot, the Two of Swords can represent making peace and seeking justice. The two swords also represent the crossroads, and because of this symbolize protection from negative influences coming from the four directions.  Arming yourself with the  talisman of the crossing longswords, you will cut through all of the challenges which come your way.
.
Handmade in solid sterling silver with a 24″ sterling silver chain,this pendant is etched on both sides and hand-finished with an antiquing patina, to bring out the beauty of this highly-detailed etch. The Longsword design is from the "The Tarot Suits" illustration by Poison Apple Printshop.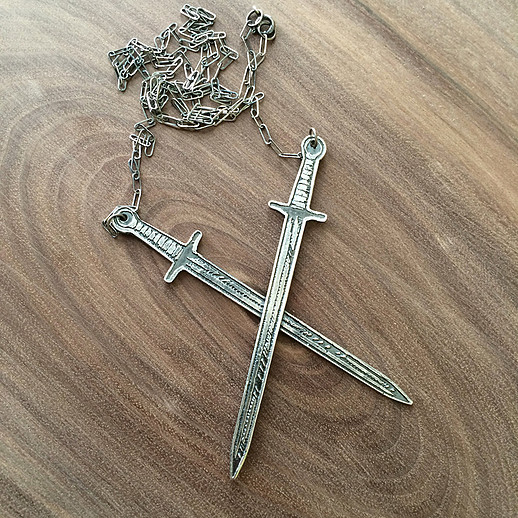 The Three of Swords Cuff is inspired by a controversial card of the Tarot. The 3 of Swords can be a grim omen of pain, sorrow, and interference; yet it can also appear as a warning of an upcoming challenge. With the knowledge of these possibilities, one may avert the misfortune through foreknowledge, or at very least mitigate its potential effects. This symbol used as a mystical weapon can make its wielder deadly to their enemies. By donning this cuff, one may become empowered to mercilessly conquer adversity.
 The design for this piece comes from "The Seer's Amulets" series of drawings by Poison Apple Printshop. With hand etched daggers fabricated from solid gold-tone brass, this cuff is adjustable within a range.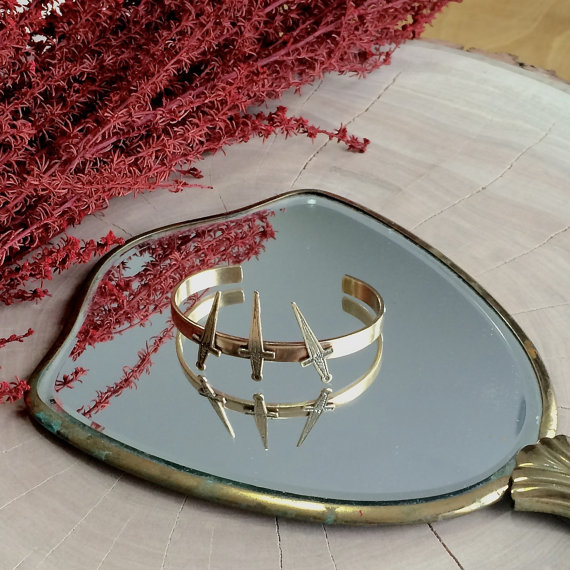 When you are prepared to arm yourself, we at Artisan are ready and waiting for you with a fashionable arsenal. Once you don your chainmail and weapons of war, we also have delicious coffee and tea in the cafe on hand to fuel your daring quest.