New Items in the boutique!
New exclusive items from Poison Apple Print shop at Artisan Boutique!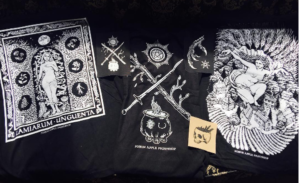 Adrienne Rozzi, the mastermind behind the ethereally gorgeous Poison Apple Print Shop, has graced our boutique with a full range of T-Shirts, Patches, and prints. If you have a favorite design you've been searching for, or want to find some of her works before they are gone forever, stop into the boutique Tues- Sat from 12-7pm. While you're here, make sure to look at our selection of Modevil jewelry, which has the perfect witchy vibe to compliment any apparel from Poison Apple!
New Godshaper Comic #6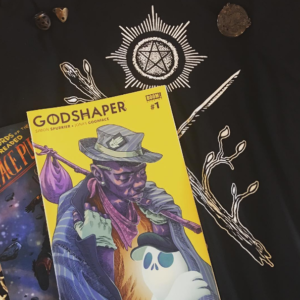 And not to give you too much to freak out about, but we also have the new Godshaper comic! If you don't yet know about this amazing comic, allow me to get you excited about it:
"Written by Eisner Award-nominated writer Simon Spurrier (The Spire, X-Men Legacy) and illustrated by breakout talent Jonas Goonface, Godshaper introduces a vast world where there's a god for every person and a person for every god…though for Ennay, unfortunately exceptions may apply. People like him are Godshapers, godless social pariahs with the ability to mold and shape the gods of others. Paired with Bud, an off-kilter but affectionate god without a human, the two travel from town to town looking for shelter, a hot meal, and the next paying rock 'n' roll gig."
That's right, Comics, Fashion, and of course delicious, delicious craft coffee. Have I convinced you yet?