New works from Laura and jame's Gyre (naked geometry)
James & Laura Gyre have been making artwork together for almost 15 years. While they are classically trained and clearly obsessed with craft, there is an under-current of anarchic intuition present in the Gyre's work. They live in the wilds of the Northside with their two children and too many cats, and spend their "free time" trying to fend off the muses long enough to sleep.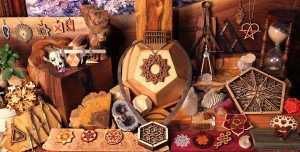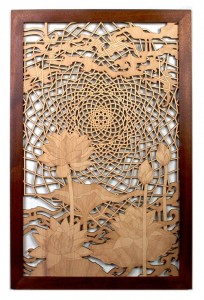 10 years later it's a family business that's quickly growing a team of people. Naked geo create's jewelry, artworks and housewares at a shared maker-space in Pittsburgh.   The family salvage's wood from everywhere they go, and use almost entirely deadfall, reclaimed lumber & scrap from other woodworkers. They work with many other artists, inventors, web-workers, designers and other makers, and can now create a surprisingly wide range of objects.  Lighting, prints, wooden dishes, clothing, large wall art, furniture & metalwork are all in the works!

"Toil & Trouble" This show is a collection of their recent workings. James has been endlessly searching the forest for choice cuts of fallen trees, and designing something he calls the Infiknot. Meanwhile, Laura has been documenting weird dreams, old stories and surprisingly bloody internal landscapes. They've been working together more closely of late, and the lines between their arts have further blurred. Expect intricate screens, epic ink, beautiful woodgrain and not-so-subtle magical themes.The work of "Naked Geometry" is about "what is there."  It is a body of knowledge largely unadorned by my personal opinions on these potentially deeply subjective matters.  They're not interested in telling people what the number 7 "means", or what gods to worship, or why flowers are beautiful. They seek simply to point to the splendor of pattern and interconnectedness, the emergent power of life itself, this obvious beauty we are surrounded with.
Come and check out the new works all through November!